Axis Shield



History




Nycomed was developing and producing iodinated compounds as X-ray imaging agents.

It was recognized early on that these compounds were also wellsuited to the formation of

density gradients

and offered new opportunities for improved methods of separating biological particles, especially osmotically sensitive cells and subcellular organelles.

Nycomed/Axis-Shield/Alere Technologies have therefore been actively involved over the last 45 years in the research and development of density gradient media.


Density Gradient Media

Excellence in Separations


Lymphoprep

Lymphoprep Tube

OptiPrep

Polymorphprep

Nycodenz

Polysucrose 400



Much of modern cell and molecular biology relies on the isolation of pure, functionally intact populations of cells, subcellular organelles and macro-molecules in high yield and both research and clinical applications provide an impetus for the development of improved separation technology.
The most commonly used method of separating suspensions of mixed populations of biological particles is centrifugation in density gradients - and the choice of medium used to form the gradients is critical for the retention of particles function. Since the early sixties Nycomed have been developing and producing iodinated compounds as X-ray imaging agents. It was recognized early on that these compounds were also well suited to the formation of density gradients and offered new opportunities for improved methods of separating biological particles, especially osmotically-sensitive cells and subcellular organelles. Nycomed has therefore been actively involved over the last 30 years in the research and development of density gradient media.
Product
Description
Product Documents

OptiPrep™
(iodixanol solution)

Iodixanol: 60% (w/v)
Density: 1.320 ± 0.001 g/ml
Osmolality: approx. 170 mOsm
Endotoxins: < 1.0 EU/ml

The Optimal Density Gradient Media

OptiPrep is a sterile and endotoxin tested multi-purpose medium based on iodixanol. Unlike any of these other gradient media, iodixanol (as an X-ray imaging agent) has been clinically tested and is manufactured under strict and EU cGMP compliance.

A Universal Density Gradient Media

Nycodenz® is an off-white powder, freely soluble in water. Solutions up to 80% (v/w) with a density of 1.426 g/ml can be prepared.

Nycodenz™ Leaflet

Sodium diatrizoate: 9.1% (w/v)
Polysaccharide: 5.7% (w/v)
Density: 1.077 ± 0.001 g/mL
Osmolality: 280 ± 15 mOsm
Endotoxins:

Ready-Made Solution for Isolating Human Mononuclear Cells (PBMC).

GMP compliant and ISO 13485 certified.

Lymphohoprep™ is a ready-made, sterile and endotoxin tested solution for the isolation of human mononuclear cells.

Lymphoprep™ Leaflet

Convenient Fritted Centrifuge Tubes Prefilled with Lymphoprep™.


GMP compliant and ISO 13485 certified.

Lymphoprep™ Tube is a sterile tube in which the Lymphoprep™ is contained below a plastic filter disc. This allows diluted blood to be poured simply and directly into the tube, the disc preventing any mixing with the separation medium.

Lymphoprep™ Tube Leaflet

Lymphoprep™ Tube Package Insert




Sodium diatrizoate: 13.8% (w/v).




Dextran 500: 8.0% (w/v).




Density: 1.113 ± 0.001 g/ml.




Osmolality: 440-500 mOsm/kg.




Endotoxins: < 1.0 EU/ml.

Ready-Made Solution For Isolation of Human Polymorphonuclear Cells

Polymorphprep™ is a ready-made, sterile and endotoxin tested solution for the isolation of human polymorphonuclear leucocytes (granulocytes).

Polymorphprep™ Leaflet

Versatile Non-Ionic, Hydrophillic, Water-Soluble Powder for Density Gradient Separations And Other Applications

Polysucrose™ 400 is a synthetic high molecular weight polymer made by the copolymerization of sucrose and epichlorohydrin. The molecules have a branched structure with a high content of hydroxyl groups giving a good solubility in aqueous solutions. The product is similar to Ficoll® 400 from GE Healthcare.
cGMP-PRODUCED DENSITY GRADIENT MEDIA

Welcome to Axis-Shield Density Gradient Media, a product group within Axis-Shield PoC. Our company has more than 35 years experience in production and marketing of Density Gradient Media.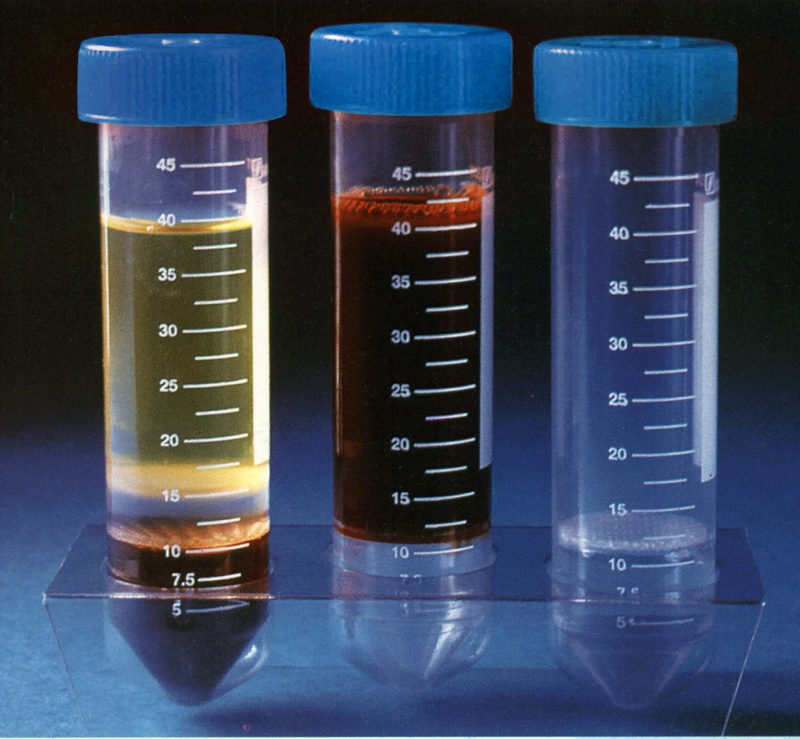 Creating separation media that enhance lymphocyte research.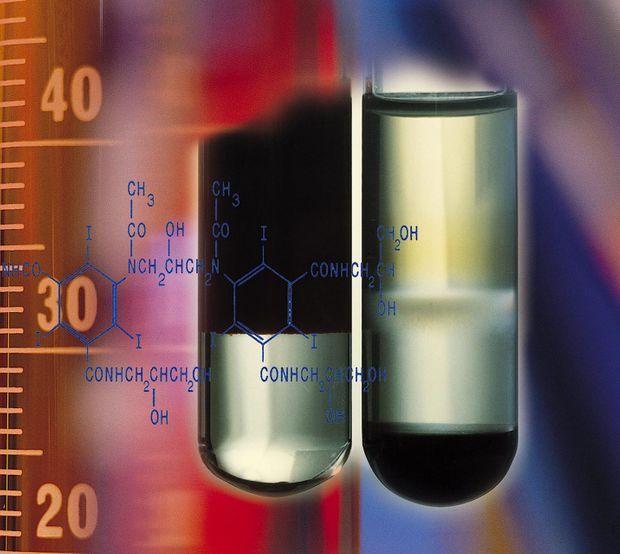 As 436 clients before you, let's work together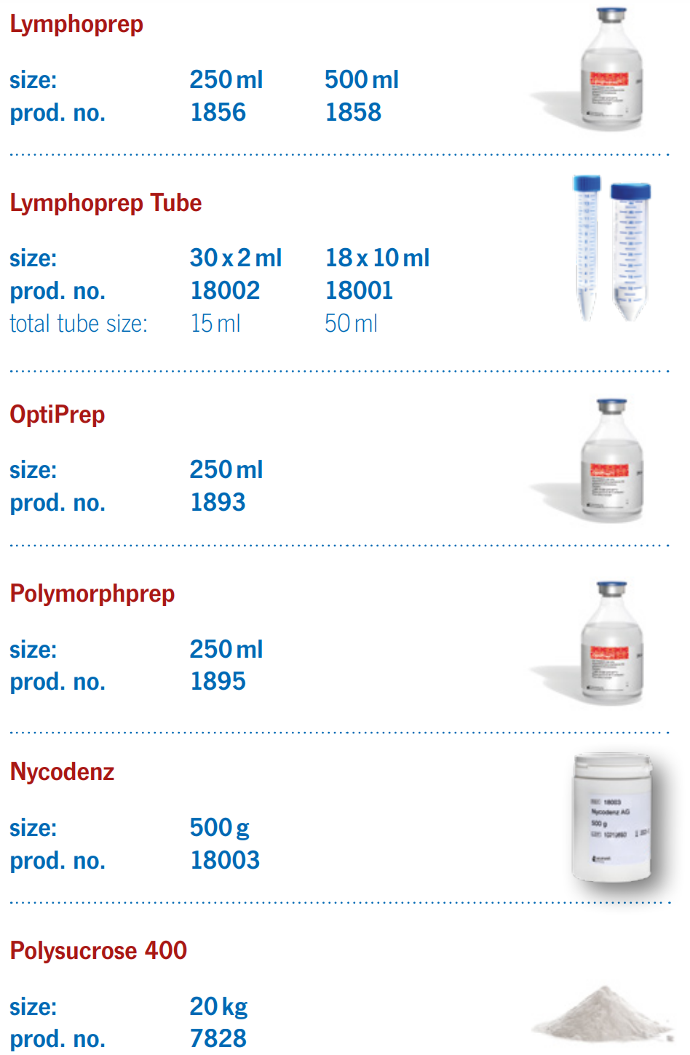 Immunology Lab
When make blood separation media.